British government : "dissapointed" with new gender equality ruling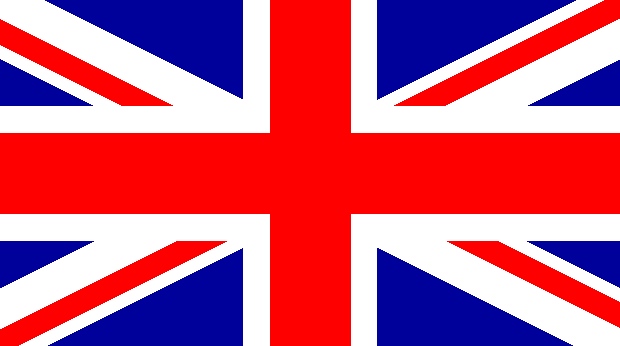 The British government has said that it is "disappointed" with new EU gender equality laws, because of the effects they will have on insurance prices.
The law, to be implemented in December next year, will make it illegal to use gender as a factor in assessing the price of premium for a customer. It will only effect contracts made after 21 December 2012. Any policies made before this will remain the same, even if they used gender as a factor.
Industry has been asked for their opinion and respondents will have until February 29 to make their views known.
"We believe the judgment will have unintended and unpredictable consequences beyond simply achieving gender-neutral pricing – including for women and vulnerable groups who can least afford it, such as the elderly," the Treasury said.
"We believe that the ability of insurers to price on the basis of [gender based] risk is integral to their need to conduct business efficiently. Due to the nature of the ruling, however, there is no right of appeal against the outcome. The only option available is to implement the ruling, in this case by secondary legislation, which is likely to be made in the spring of 2012," it said.
The government estimated that the 'net' cost of the new law on motorists alone would be GBP300 million.
"Gender is one of the most important risk indicators that an insurer can use to price a number of business lines," the Treasury said. "If insurers were unable to take gender into account when assessing the risk that they are covering, insurers are likely to have to average prices between high and low-risk individuals in those lines where gender in a risk factor. In such a scenario, a policy at an average price would be more attractive to higher risk individuals, as the policy would not be priced according to their risk."
A copy of the full treasury response to the law is available at the treasury website.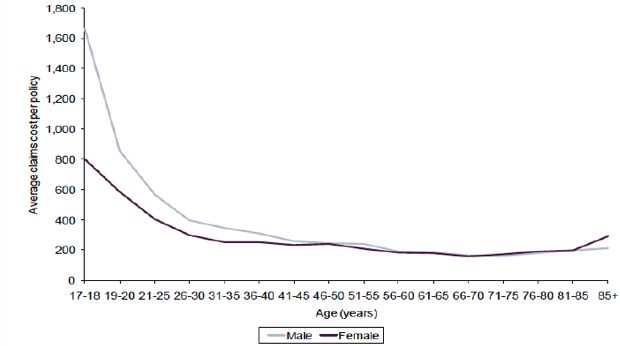 Graph illustrating average claims cost for motor insurance acording to age and gender (ABI Research Paper No 24, 200 – The Use of Gender in Insurance Pricing)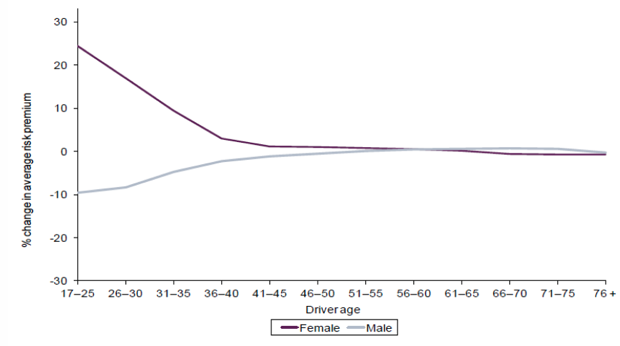 Graph illustrating the percentage change in average premium for motor insurance according to age and gender, following the removal of gender as a risk factor in the pricing of individual policies (ABI Research Paper No 24, 2010 – The use of gender in insurance pricing)
Read more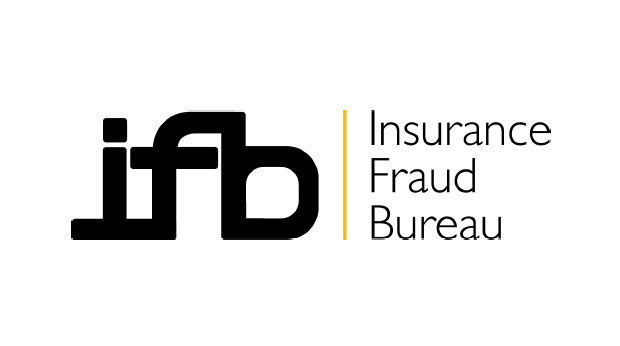 The Insurance Fraud Bureau (IFB) is targeting further growth in its customer base having appointed a new Business Development Manager, Danny King.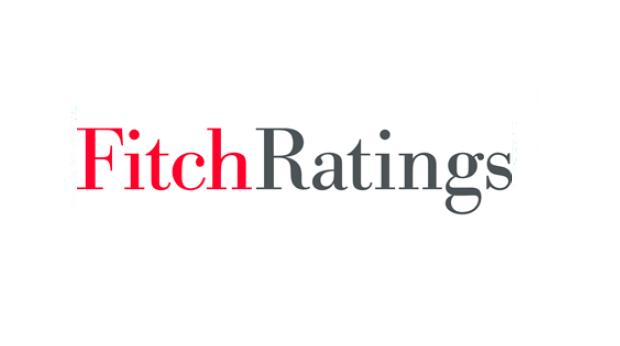 Fitch Ratings has upgraded Amlin Europe N.V.'s (AE) Insurer Financial Strength (IFS) rating to 'A+'. The Outlook is Stable. Fitch has also affirmed...
Tradewise claims and policy data will be added to the 130 million insurance records interrogated by IFB analysts on a daily basis to...
Articles by theme
FOLLOW US ON TWITTER
Today's top posts
SPONSORED VIDEO